With the release of Harry Potter 7 coming up, whisperings of muggles dressing up have been circling about. I would like to dedicate this post to those who spend countless hours planning, sewing, enchanting, and purchasing the absolutely perfect Harry Potter costume for Halloween, book and movie release parties, and/or running up and down the street yelling out spells (don't pretend like you haven't).
The first Harry Potter book release I went to was The Order of the Phoenix. It was a night I will never forget because it honestly seemed perfect to me. I remember my brother Chris lending me some of his church clothes so I could have a tie and vest similar to a Hogwarts student. My little sister Holly and I both fought over who looked most like Hermione (Yes, its true), and the countdown at Borders was just bliss to me.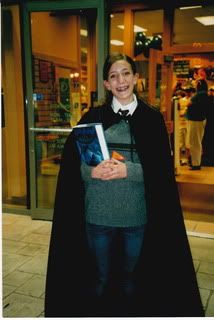 It shouldn't be surprising to you that after that event I went to every Harry Potter release party I could. For the 5th Harry Potter movie I dragged Kellen, my husband, to the midnight showing. I convinced him that we HAD to dress up, and willingly he agreed, even though he hadn't read the books. So once again I dressed up as a Hogwarts student (not very creative I know), and Kellen showed up as spider-man. Yep, a full complete spider-man costume, red boots and all. This wasn't that surprising to me, Kellen's rather unpredictable. What was surprising was that he WON the Harry Potter costume competition.
For the release of Harry Potter 7 part 1, Kellen and I once again dressed up for the festivities. I tried making a costume resembling Professor Trelawney (tried being the key word...), Kellen began arranging his costume trying to resemble a death eater, but became a golden snitch in the end (I think?). And Bekki, Kellen's sister, wowed us all with her whomping willow costume. It. Was. Awesome. She won the costume competition that time (duh!) and luckily I got a picture of it.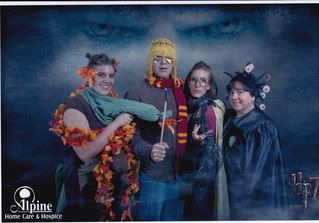 So when you dress up (and you better!) for the release of Harry Potter 7, I congratulate you on your creativeness and hope you have a magical evening!
PS my spell check says "Muggle" is a real word. Weird.